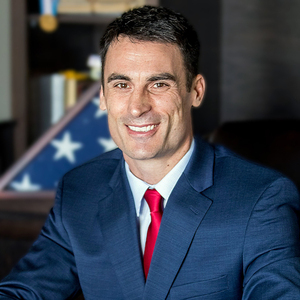 Brandon Bochenski
Special guest
Brandon Bochenski was elected in June 2020. His time in office has been spent closely monitoring the City's budget performance and economic growth, and successfully focusing on community-wide economic development, business growth and quality of life investments. Mayor Bochenski leads from the front and enjoys his ongoing and frequent personal engagements with citizens, partners, and stakeholders in leading a growing and dynamic Grand Forks community.
In 2001, Brandon Bochenski moved to Grand Forks after receiving a hockey scholarship to play for the University
North Dakota where he received a bachelor's degree in Business Economics. He became an all-American and Hobey Baker finalist as one of the nation's best collegiate hockey players. He married his college sweetheart Jenny and is now a proud father to their daughter Sylvia and sons Henry and Charlie.
Following his time at UND, he immediately began a 15-year professional hockey career that would take him all over the world playing in the AHL, NHL, and KHL. During his 8 years in the KHL he became the first American born player to ever captain a team in the history of Russia's top league. Mayor Bochenski retired from professional hockey in 2017 to concentrate on his family and returned to Grand Forks where he started a construction and land development company.
Mayor Bochenski serves on the Grand Forks Region Economic Development Corporation Board, Chamber of Commerce Board, North Dakota Interagency Council on Homelessness, UND School of Medicine Simulation Center Advisory Board. and leads the community's base retention and investment efforts. He and his family are active members of Hope Church in Grand Forks.
In his off time, Mayor Bochenski enjoys time with his kids, traveling, hiking, and time spent at the lake.
Brandon Bochenski has been a guest on 3 episodes.
February 8th, 2023 | 1 hr 23 mins

call in show, east grand forks, fufeng, grand forks, local issues, minnesota, noah chelliah, noah j. chelliah, north dakota, podcast, politics, talk radio

Mayor Brandon Bochenski (2/6/23) and Dana Sande (2/8/23) join the program and we discuss the city council last night voting to scrap the controversial Fufeng project to Grand Forks.

February 1st, 2023 | 1 hr 56 mins

brandon bochenski, call in show, corn milling, east grand forks, fufeng, grand forks, local issues, minnesota, noah chelliah, noah j. chelliah, north dakota, podcast, politics, talk radio

The U-S Air Force has come out against the proposed Fufeng corn milling plant in Grand Forks for security reasons.

A letter to North Dakota U-S Senators John Hoeven and Kevin Cramer from the office of the assistant secretary of the Air Force said in part… that while the Committee on Foreign Investment in the U.S. (CFIUS) concluded that it had no jurisdiction, the Air Force believes the project presents "a significant threat to national security with both near- and long-term risks of significant impacts to our operations in the area."

Mayor Brandon Bochenski joins Critical Thought to discuss the news, and as always your calls and your thoughts guide the discussion!

December 6th, 2022 | 1 hr 18 mins

Mayor Brandon Bochenski joins me and we talk a new soybean crushing plant that's chosen Grand Forks as it's home! A woman from Meridian Idaho was forced to leave her tiny home a city-code-enforcment officer showed up.